The Birmingham Sound -
John Ciba and I met 4 years ago while I was calling around to order catalogs from distributors for my record store-that-never-was (Chachi Loves Vinyl). I called Choke Distribution, a Chicago indie, and John picked up the phone. When he found that I was in Birmingham, he started asking all sorts of questions, not just about the city, but about what I knew of soul music. I guess I knew a bit more than the average 23 year old girl, having the Dad I did who allowed me to scavenge through his record collection time and time again as I was growing up. John was a collector of soul music and had become interested in the South's offerings. He spoke of the amazing recordings that had come out of Muscle Shoals. Our conversation went on for over an hour and we talked the next day and the next and the next..the conversation kept going until three months later he traveled down from Chicago and we drove up to Muscle Shoals, met with Dick Cooper, and toured the Muscle Shoals Sound, Fame, and the newly refurbished 3614 Jackson Highway studio. We also spent alot of time in Birmingham, touring the Jazz Hall of Fame and speaking with Doc Adams, going to shows, and ate alot of Barbecue.
John went back to Chicago and we continued to email and call. Over time, his interest spread from the Muscle Shoals Area to Birmingham's Soul era, a time of music that was always overshadowed by the Civil Rights Movement. Through John's trading and buying and researching, he had heard about a small label in Birmingham from the 60's. The man who owned the label also had started the Sound of Birmingham Studios in Midfield. He was a plumber. A nice guy who loved music, wanted to work with music, with musicians. Neal Hemphill. In his studio, Sound of Birmingham and it's later incarnation Hemphill Studios Neal recorded country acts, gospel groups, southern rock garage bands, and lots of soul music: Sam Dees, Frederick Knight, Jerry Weaver, Ralph Jackson, Roscoe Robinson....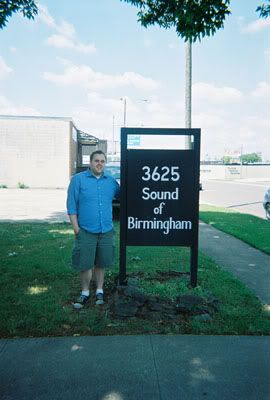 Neal had passed away in 1985, and since he had always kept his family life apart from his music life, his children had little interest in the stuff left over form their father's "side career". They took all of the contents of the studio, put it in a storage place, where it sat for 20 years. Through all of the friends we had made in the Shoals, through a bit of digging and calling and pestering, John finally found Neal's family. On one of his trips down early last year, he finally met with Neal's children and acquired from them the contents fo the storage space. All of these demos and reels had little or no documentation. Boxes and boxes of tapes with nothing but the name of the bands or singer and a song title. That's where the fun started. We had to find out who played on what and when, who engineered it, who wrote the songs. John would fly down once a month and we'd interview all of these amazing people, Don Tinsley, Roscoe Robinson, Wayne Peterman, Mike Dee, Shelly Stewart, Mark Harrelson, Roszetta Johnson.
Roscoe was a trip. We met him for lunch one day and ate and talked and listened and took notes, he came out with story after story. A wrinkled, beautiful little man, with many tricks up his sleeves and a certain twinkle in his eye. He made people rise form the dead (Eddie Steele, a singer who we were looking for and were told had passed was actually selling shirts that day out of the back of his car at fife's sandwich shop). He had crazy connections like you wouldn't believe (went to high school with Michael Jackson's dad in Arkansas), and somehow had found the fountain of youth (it's in his voice, when he sings, the years, the wrinkles just melt away).
Ralph...we met him at an Arby's in Montgomery. Spooner Oldham (Muscle Shouls Rhythm Section, Neil Young) had gotten us in touch with him. He thought we were there just to ask him a few questions. Instead John played music for him on his laptop, Ralph's music that he hadn't heard in 30 years, he cried and laughed. He's been working as a mechanic for a long time, had made some music since his time at Sound of Birmingham, but only for himself...he thought that no one cared about his music. Then John played a couple of tracks of the great Sam Frazier coviering his songs. Ralph was on cloud 9. Since then, John has set Ralph up with a band in Chicago, is sending him on tour to Europe this fall... Crazy.
So all of this, sitting through the interviews and John and Emily's library trips, poring through stacks and stack of old handbills and newpapers at Jim Reeds books, Ryan's photoshoots, and I'm sure so much more that I'm not eveni aware of up there in the Windy City has come to this, the love John Ciba's life, the Soul of Neal Hemphill, this collections of the best of what was left behind. Even if I was just John's hostess, navigator, and notetaker, I've found that my appreciation for this city's rich history has only grown and grown, as has my addiction to the sweet and incredible sounds of soul music.
It's been one of the greatest experiences of my life.
I can't wait to see John and Emily when I get off of that plane tomorrow. I can't wait to be in chicago. I can't wait to see the show. I can't wait to dance. It will be amazing. And I get to do it all over again next weekend here in Birmingham.