originally posted April 6, 2006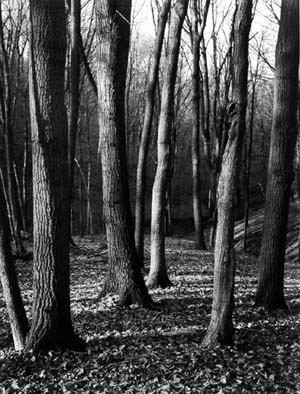 "And you won't have to ask if I'll be here...isn't love the reason to live in the dark...."
Driving over the mountain to the Moonlight tonight, I grasped my phone tightly to my ear, dicussing with one of my dearest friends in the wide world the sound of Barton Carroll. I tried to tell D of the darkness, the beauty, the strange sorrow of his light woodworkers voice, the kind of sad dream that you would find on the front porch of a cabin, rocking back in his chair and telling stories of lost loves, lost moments, lost days...his is a voice of sunset, the sound of the coming night and all of it's long kept secrets.
With all of this that I was thinking, everything swirling around in my head through the traffic and busy night lights, all I actually said to him was this (lord help me), "You know how when you think of Iron and Wine, you picture a field, Barton Carroll is the woods." Does that really capture this, every little thing I wanted to say? No. He laughed and said that it made sense in that Saraway. I smiled. He knows me too well. We spent last summer catching up after years apart, writing not just every day, but almost every hour. He became my best friend and closest confidant. I miss the job I had, if anything but for the hours I sat after my little amount of work was finished, I had so much time to tell him everything. Now I fly and fly and fly. I know he knows and understands. I just miss our emails of whimsy and lunch plans as we sat 500 miles apart.
A small family of listeners sat close tonight as Russell Medford, Donna Jean Godchaux-McKay, and Rob Malone led an absolutely brilliant set. I wish that I could convey to you what the Fiddleworms have become, performing as a live band. Everytime I see them play, I am surprised by their tightness, the intricate little lines sewn by each musician through out this warm, loveworn patchwork quilt. As the Fiddleworms play, each one in turn rustles into step, side to side in an earthy, full hearted wonderland of sound. Tonight, tonight was even more special. Tonight was an acoustic set complete with piano and high harmonies. The blend was perfect. It was a small crowd, as I said, and it was another one of those nights when I wished that by a push of a buttom, or even by a simple thought, I could bring all of those close to me instantly there, just to experience what I was experiencing, just to know.